Type of Restaurant:
Sushi, Hibachi, Multi-Unit
Locations:
Baton Rouge, LA, and Pensacola, FL
Number of Employees:
35
Record Sales was Music to Their Ears Over at Rock N Roll Sushi Amid COVID-19
Rock N Roll Sushi gives customers the opportunity to travel back to the lively era of rock and roll while enjoying Asian cuisine throughout the Southeast region. As no stranger to running multi-unit restaurants, Chip Burr heard of the successful franchise and wanted to run two of his own. In the past, he went from working as a delivery driver for Dominos to helping the company with their struggling stores. During that time he was sent to Australia and helped grow their chain from 30 to 176 stores. When Chip moved back to the States, he ran stores for the largest Domino's franchise while also operating 20 stores of his own. It was 5 years ago that Chip decided to sell all of his stores to explore his next venture: Rock N Roll Sushi. From there, Chip opened his first location in Baton Rouge in 2017 and then opened his second restaurant with fellow Domino's franchise Andy in 2018. 
Like countless other restaurants, things started to drastically change for Chip's locations as soon as COVID-19 hit the nation. Not only was he concerned about how this virus would impact his business but also he also needed a solution to keep both his customers and staff safe.


Making the Switch to Online Ordering was the Right Move to Reduce Key Contact Points
When COVID-19 hit the country restaurateurs across the nation had to reevaluate their business in order to make the right moves to keep their restaurant afloat. During this time, Chip was trying to find solutions to save both of his restaurants in Baton Rouge, LA, and in Pensacola, FL. That's when Chip looked into adding OrderCounter's Online Ordering platform to give guests a contactless experience that offered both curbside pickup and delivery orders. After getting set up, Chip knew that in order to help his restaurants he had to be urgent about getting the word out regarding his new service. Luckily for him, his Hybrid Point of Sale System gave him the groundwork to compile a list of customers from his reports. That way he wasn't left flat-footed when the pandemic happened and all he had to do was reach into his database to send out a mass message to his existing customers. Not only did he inform them about his new curbside pickup service but he also included a 25% off coupon to encourage customers to use his new online service.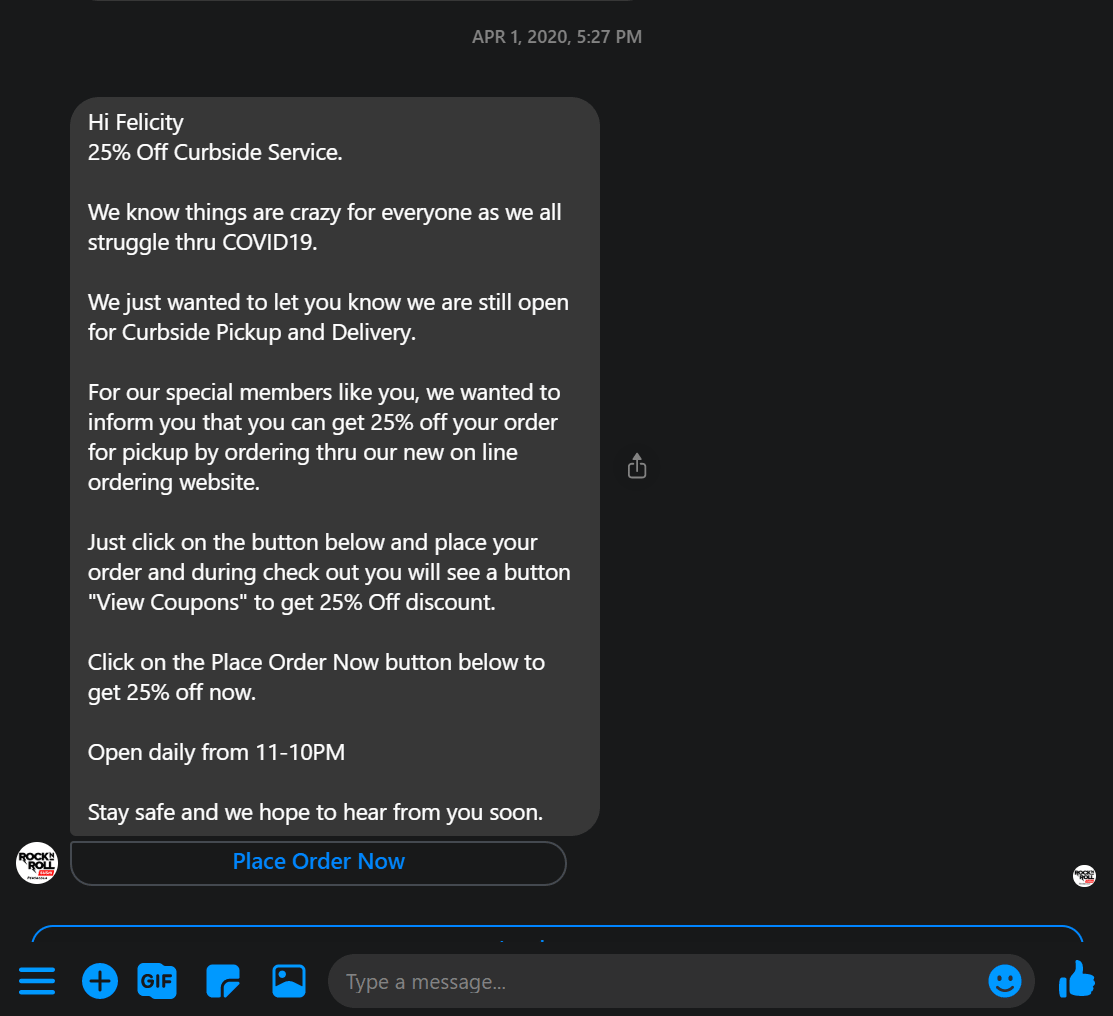 Within 30 minutes his once quiet dining room transformed as it began to fill with multiple tickets being printed from his kitchen printer. Since incorporating online ordering, Chip has had full control over his online marketplace and is able to bypass the hefty fees charged by popular third-party vendors. Additionally, all of his online orders are sent straight to his kitchen printer so that his restaurant never misses an order.


Having a Simple Online Ordering Platform That Connects You to Real People in Real-Time
When there's a crisis there is no time to wait – especially when it comes to your business. When Chip first opened his Rock N Roll Sushi restaurants he decided to use OrderCounter's Hybrid Point of Sale System after having negative experiences using other third-party vendors. During his 30 year career, Chip has gone through numerous third-party platforms that he found took too much time and patience to fix any issues that stemmed from his system. Not only did he find himself having to go through multiple applications to get the problem fixed but he was also dealing with sales agents who were not looking to resolve any of his problems. Since switching to OrderCounter, he found that he got the best of both worlds: a user-friendly system plus a dedicated support team. He now gets a more personable experience by being able to speak with real people that genuinely care about his restaurants' success. 

Receiving Real-Time Notifications Helps 
Receiving real-time notifications has really helped Chip manage both of his restaurants during COVID-19. With the help of employee scheduling feature ScheduleGofer, he was able to easily schedule, communicate, and manage his restaurant's staff all in the palm of his hands during the pandemic. Chip has found himself saving more time by having his employees submit their time off, and checking their schedules online instead of them having to call into the restaurant. Chip receives notifications that will tell him whether an employee doesn't clock in at their scheduled time. This way he can call the manager on duty to get the update of whether the employee is running late or if they had quit right before their shift. This made it even easier to manage both teams at his sushi restaurants and help him stay on top of what happens.
"During COVID-19, I was worried about the impact that it would have on my restaurants especially after seeing my sales start to dramatically drop when word spread about the virus. Since making the switch to OrderCounter's Online Ordering system it has really enabled me to salvage my business during this crisis. Not only has my sales completely turned around but we're hitting record sales that we haven't been able to before with our online orders. Even after trying third-party vendors for online ordering, I find OrderCounter's software is more flexible and I like the fact I can just call one number in order to get in touch with customer service to fix any software issues I may have. With the owners on board, I'm continuously seeing new and innovative updates that have also been very beneficial to keeping my restaurants afloat during this time. Keep up the good work OrderCounter!"